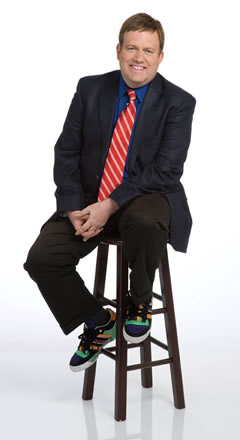 Dr. Frank I. Luntz:

Frank Luntz is one of the most honored communication professionals in America today. "The Nostradamus of pollsters," said Sir David Frost, Time magazine named him one of "50 of America's most promising leaders aged 40 and under" and he is the "hottest pollster" in America according to the Boston Globe. Frank was named one of the four "Top Research Minds" by Business Week and was a winner of the coveted Washington Post "Crystal Ball" award for being the most accurate pundit.   His focus groups have become so influential that presidential candidate Barack Obama had this to say following the PBS presidential debate, "When Frank Luntz invites you to talk to his focus group, you talk to his focus group."
Dr. Luntz has written, supervised, and conducted more than 2,000 surveys, focus groups, ad tests, and dial sessions in over two dozen countries and four continents over the past decade.  Frank has become the go-to consultant when Fortune 100 companies and their CEOs need communication and language guidance, from General Motors to Federal Express, Disney to American Express, from AT&T to Microsoft, from Lowe's to Pfizer, from Kroger supermarkets to McDonalds to the entire soft drink, hotel, and motion picture industries, as well as for the U.S. Chamber of Commerce, the National Association of Manufacturers and the Business Roundtable.  In some capacity he has helped almost 30 Fortune 100 companies navigate the economic climate and connect more closely with consumers. 
The "Instant Response" focus group technique pioneered by Frank has been profiled on 60 Minutes, Good Morning America (on Election Day 2008) and on the award-winning PBS show Frontline.   He has been a guest on virtually every talk show in America, including Meet the Press, Nightline, The Today Show, Charlie Rose, The Jim Lehrer News Hour, The O'Reilly Factor, Tavis Smiley, Montel Williams, and Hardball.  He also served as a consultant to the award-winning NBC hit show "The West Wing."
More media outlets have turned to Dr. Luntz to understand the hopes and fears of Americans than to any other political pollster. In 2008, Frank was the "Focus Group Czar" for Fox News, conducting over 40 sessions in 14 states, as well as co-hosting four live hour-long prime time specials and dial sessions during every debate.  He was a primary night and election night commentator for The News with Brian Williams on MSNBC in 2000 and for Hardball in 2004.  His reoccurring segments on MSNBC/CNBC, "100 Days, 1000 Voices" won the coveted Emmy Award in 2001. Frank has conducted focus group sessions for all three major television networks, two of the three cable news channels, PBS and the BBC, as well as for The Wall Street Journal, Newsweek, The New Yorker, and U.S. News & World Report.
Frank is the author of The New York Times best seller Words that Work: It's Not What You Say it's What People Hear. Now out in paperback, the book explores the art and science of language creation, and was awarded the 2008 Audie Award for the best business information/educational audiobook of the year.  His latest book, "What Americans Really Want … Really" addresses the private hopes, dreams and fears of the American people, and has been nominated for the 2010 Audie Award for the year's best non-fiction audiobook.  He has written about language for The Wall Street Journal, The New York Times, The Los Angeles Times, the Financial Times, The Times of London, and The Washington Post.

When he is not consulting, Dr. Luntz can often be found in front of a classroom. From 1989 until 1996, he was an Adjunct Professor at the University of Pennsylvania. He has also taught courses at Harvard and George Washington University.

Frank graduated from the University of Pennsylvania with an honors Bachelor of Arts degree in history and political science, and was awarded a Thouron Fellowship. He received his Doctorate in Politics at the age of 25 from Oxford University. He spoke for 24 straight hours as part of the Oxford Union Society's Guinness World Book of Records debate. In the spring of 1993, Frank was named a Fellow at Harvard University's Institute of Politics, the second youngest individual ever to receive this honor.
Alyssa Salvo:
Alyssa is a Senior Project Director at Luntz Global with a primary focus on crisis communication, policy advocacy and consumer and branding challenges. She has developed comprehensive messaging strategies for various Fortune 500 companies, non-profits, trade associations, and sports organizations. Previously, she was a Project Coordinator at Luntz, Maslansky Strategic Research, where she worked for a half-dozen industry-leading companies. She is a graduate of Princeton University, with a degree in American Politics.
Matt George:
Matt is the media and visual communications director at Luntz Global where he puts his creativity to good use by finding new and better ways to help clients communicate their message visually.  He attended the University of Michigan in Ann Arbor, where he received dual Bachelor's degrees in Film/Video Studies and Political Science, and has since continued his education at The George Washington University's Elliot School of International Affairs, pursuing a Masters in Security Policy Studies.  Matt's passion for the moving image has translated to commercial video work for Fortune 500 companies that competes - and wins - against some of the nation's top advertising firms.
William Duvall
William S. (Bill) Duvall is a financial professional with over 25 years experience in public, private and governmental accounting and tax areas.  A licensed Certified Public Accountant (CPA) in multiple states as well as a Certified Valuation Analyst (CVA), Bill is the Chief Financial Officer and has worked with Frank Luntz for over 20 years in various capacities.  Currently he heads up the administrative arm of the organization including finance and human resources.
Meagan Buren:
A senior project director, Buren came to Luntz Global having managed focus groups and polling in the United States, France, Germany, England, Spain, Russia and the Middle East. She has conducted interactive training sessions on strategic communications and media for thousands including ambassadors and leaders around the world. Buren earned her master's degree from Georgetown University in Communications, Culture and Technology. She graduated from Ohio State University cum laude and Phi Beta Kappa with a B.A. in arts and sciences and a B.A. in humanities.
Lindsay Hanson:
Lindsay is a writer and communications strategist for Luntz Global, with a background in federal policymaking and Congressional affairs. She has served as Director of Government Affairs at Kimbell & Associates, and was also health policy aide to now-Majority Leader Eric Cantor (R-VA). She has also previously monitored tax, banking, and financial regulatory issues for Senator Mel Martinez (R-FL). She holds a BA in political science from the University of Richmond, where she was a faculty-selected Writing Fellow.